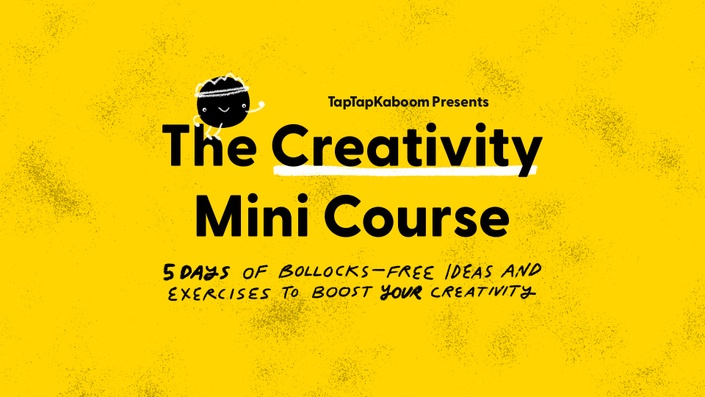 The Creativity Mini Course
5 Days of Bollocks-Free Ideas And Exercises to Boost Your Creativity
Watch Promo
Creativity. It's this word that gets thrown around a lot. Creativity here. Creativity there. Creativity this. Creativity that. It's treated like something mysterious and magic. Many of us believe it's this elusive thing that's only bestowed upon some lucky people. What bollocks. And you know what else is a load of bollocks? All the other false beliefs we have around creativity. Like that we're born creative or not, or that there's no room for creativity in work or life, or that our creativity is lost, or that creativity is something we need to wait to strike! What bollocks! Absolute bollocks. Have I said bollocks enough? Bollocks! All these false beliefs are just bollocks!
The foremost thing I wish someone had taught me years back (in a short and fun way) is what creativity is, how it works, and how I can use it—so that's what this mini course is all about.
I'll be debunking those false beliefs, offering you my take on what creativity is, and giving you 5 creativity tools to use. We need to stop thinking of creativity as something magical and mystical that only artists, poets, designers and maybe adverting gurus have access to. No.
Creativity is for all of us, including you—especially. Creativity is for work—no matter what job you're in. It's for all stages of life. It's for relationships. For travel. For managing money. Creativity can be used for anything and everything. You can use it to change the world, to make money, to help people, to discover your purpose, to experience joy, to build better relationships with your kids. You can do this all with creativity.
There is no better time to start learning more about creativity than today. Why? Firstly, it will change what you do, and how you do it. It will lead to a better life. Secondly, if you're doing the same things the same way every single day, well, then someone else, or more likely some robot is going to start doing what you do much quicker, much cheaper, and much better. If you're not using creativity then you're not being human.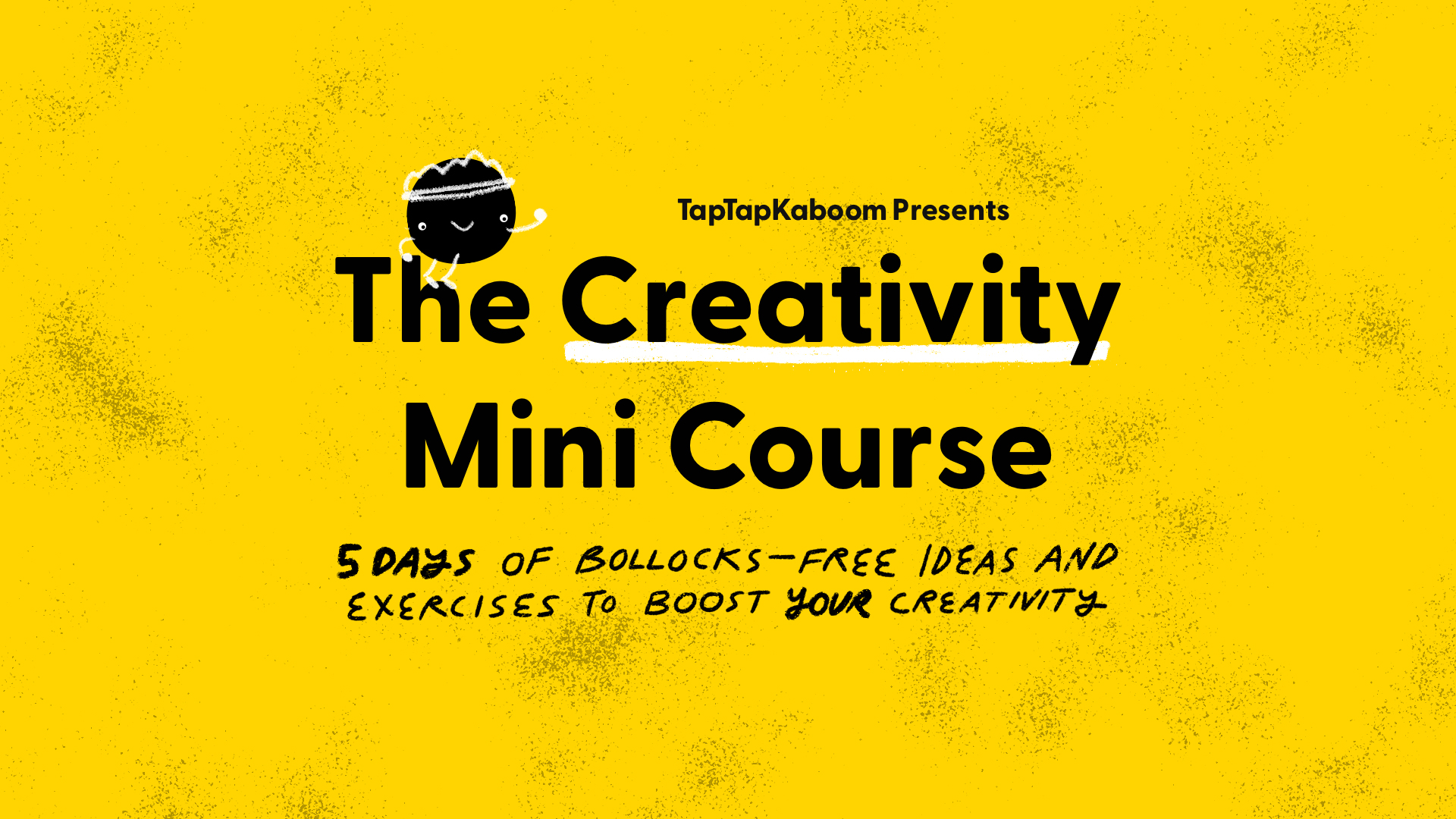 So, come take this course. It's free. It will take 15 minutes of your time each day for 5 days. You'll learn how accessible creativity is. You'll have fun. You'll challenge yourself. And no, you don't have to consider yourself a creative person to take this course.
Course Curriculum
Watch These First
Available in days
days after you enroll
Day 1
Available in days
days after you enroll
Day 2
Available in days
days after you enroll
Your Instructor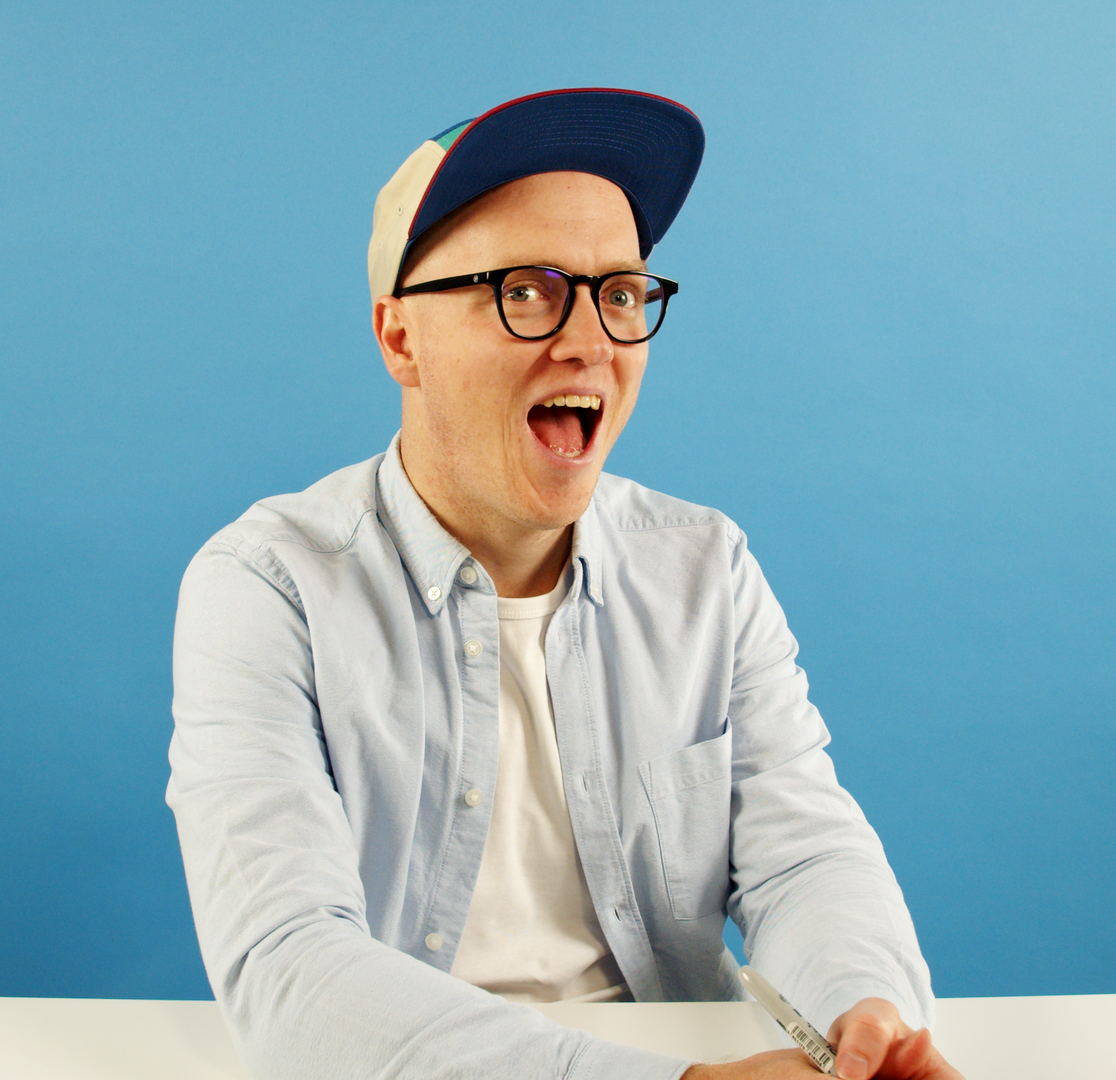 Hey I'm Rich, the founder of TapTapKaboom. I'm a compulsive maker, creativity geek and suffer from an overactive imagination. Although I call myself a "Product Designer" I'm more of a jack-of-all-trades / generalist / unicorn. I'd actually go so far as to call myself a world-class unicorn who creates compulsively—I design, animate, doodle, and code.
I studied multimedia design, and then graphic design, and taught myself how to code. I've freelanced, worked for agencies and startups, and now run my own studio with my wife in Amsterdam.
Also! I can touch my nose with my tongue!
Frequently Asked Questions
When does the course start and finish?
It's a completely self-paced online course. You decide when you start and when you finish.
How long do I have access to the course?
Forever! After enrolling, you have unlimited access to this course for as long as you like.